Alaska is one of the hottest destinations around these days. Road Trips and National Parks are the new buzz words in the travel industry. I think it's safe to say that we are all going to be enjoying a lot more nooks and crannies of our country in these next few years as the travel and tourism industry dusts itself off and gets back on its feet. So, where do you even start? Well, when it comes to the ultimate American trip, I can think of no place better than Alaska!
I always say it! When we are out traveling the world, don't just look at it, do it! And Alaska is a paradise for those who like to join in and experience things first hand. Whether you choose to visit by cruise, RV rental, tour package, or in your own mini-van, Alaska has something for absolutely everyone! In fact, there are so many choices, you may not be able to get to all of them. So, grab the kids and Grandma! Check out this great list of 8 of the most family friendly activities that Alaska has to offer!
Animal watching in Denali National Park
Whether you know it as Denali or Mt. McKinley, this central point of Alaska and its surroundings never ceases to amaze! Once you are in the park, you can take on a hike on your own or jump on a school bus and enjoy a guided tour. Be prepared for a little ranger history and a few distant animals. If you're lucky, you will get a chance to see the grand daddy of them all: the moose! This is definitely a trip to bring binoculars!
Gold panning in the streams of Juneau
Step back in time and try your hand at a little gold panning in the shallows of the brisk streams that surround the area. Kids will love getting elbow deep as they search and scoop and dig for treasure. It's a can't miss!
Whale watching in Glacier Bay National Park
While much of Alaska can be a bit overcast and gray, Glacier Bay sparkles! Learn about the glacier ice and catch a calving as the ice gives way to the water below. Watch the chunks of striped ice float by you and, if you are willing to get up early, you may run in to a pod of whales enjoying the morning light.
Fishing in the waters off of Ketchikan
Whether you are a fresh water fisher or prefer the salt water, Alaska has something for everyone. I highly suggest a guide that will make the most of your time. Guides are also helpful in keeping you safe from uniquely Alaskan dangers like bars while you fly fish or whale bubble nets while you fish for salmon. Many guides also include the processing and shipping in their fees. Our salmon arrived perfectly packaged on our door step the day after we returned home. Brilliant!
For an enchanting meal, try out a salmon bake. These outdoor venues nestle themselves in the woods and allows guests to get comfy around a campfire. We felt like little pixie fairies could show up at any time as we made s'mores. Watch out though, the squirrels are onto the marshmallows and may try to take one or two!
Get ready to try out Alaska's best sport! Dog Sledding! Having the chance to visit a dog sled camp is quite the treat. Most of the year, these amazing animal athletes are preparing for the Iditorad race. As a visitor, you can help out these furry friends by allowing them to pull you as they mush (you are a fraction of their winter haul). They are so excited when they know they are going to run! After that, socialize with the newest generation. They need to get to know lots of people in order to be successful on the race circuit. So, take a ride with the big dogs then go cuddle with the newest members of the pack- the puppies!.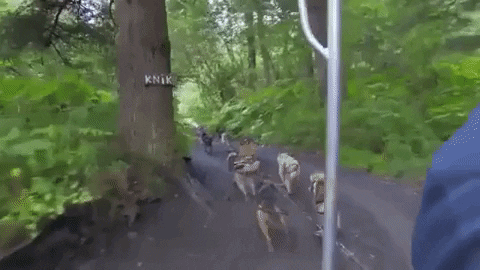 Zip up your dry suit and get ready for the thrill of a lifetime! Alaska has some of the best rapids going and they are picture perfect in the Summer months. The water is cold and the great rafting guides will take you through some of the most beautiful bush country Alaska has to offer. Be sure to ask about the expected rapids level so that you are comfortable with the activity level.
Zip Lining in Talkeetna in Central Alaska
Talkeetna lies in central Alaska. This quirky town is a great day trip and has an excellent zip lining course. With a super family friendly attitude, you can spend the afternoon, zipping and repelling to your heart's content. The finale of your course is a great over water run that will keep your heart racing! This is my mom taking on the long fly across! So much fun!