As we all take a pause to dream about travel, I hope we are thinking about all of the different facets that make travel so exciting. Much like an artist approaching a blank canvas, travelers approach a blank itinerary and to-do list. The anticipation of travel is, sometimes, more complex than the act itself. Moreover, preparing for travel with a packing list can be quite cathartic. Even packing your bag can be a ceremonial start to a trip. I think I may need a little of those cathartic, ceremonial feelings in these grounded times. I think I need to think about planning….
What's in your bag?
There are two modes of packing: the "everything in" trip and the "carry-on" trip. I mean, let's face it, you can take everything you want for a road trip or that extra bag that's included in a cruise package. Conversely, practically every other type of trip you are taking has you shrink wrapping your things to fit in a plane-sized carry-on. Additionally, I don't want my trip to be overwhelmed by my belongings. It's important to me that, and I bet for you too, to keep my eyes on the travel and not the distractions. After all, I'm traveling to be globally literate, not to be a bag handler! I want to easily get my packing list in my bag and out the door with minimal fuss regardless of where I am. So, how do you pare down smartly for easy travel?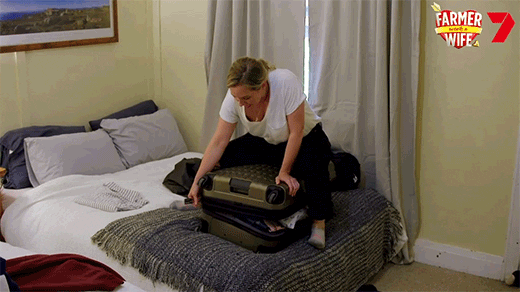 I have a confession.
I do not follow the masses of people who insist that the only way to travel is to lug their carry-on for the 17 miles it takes to get in and out of an airport. It seems that we all have to worry about so many things when we carry-on! Weight, liquids, battling for overhead space, check ins, oh my! Additionally, I'm plus sized.
Let me break down what that means. My bathing suit does not take up the space of a Christmas ornament. In fact, it probably takes up the space of a pair of shoes. Five of my tops do not fit in the same amount of space as a pair of shoes, in fact they take up about one quarter of a standard sized carry-on suitcase because I also use tank tops to layer. The list goes on. However, I've learned to adapt and overcome and pack into one suitcase (with a little room to spare). Over the years, I have narrowed down my packing method to create a balance between being prepared and not over packing. So how does one not over pack?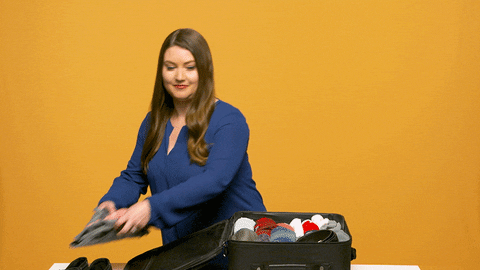 The Necessities…
1. I use several pieces to gather my things. For example, like a hard shell suitcase, a small, under the seat carry on, a good purse that holds my electronics well, and packing cubes. I am a true believer in the check in and I don't fight the overhead bins. My purse does double duty as a secure spot for my electronics and I use packing cubes to corral things like swim wear, formal clothing and unmentionables. This makes it easier to sift through my luggage daily.
2. Laundry supplies… if I'm going for more than 7 days. I bring a tiny bag with a tide stick, some downy spray, a few pods, a laundry bag and some dryer sheets. Where ever I will be on day 6 is the spot I look for a decent laundry place. Usually, the hotel knows of just the right spot. This little baggie goes right in a packing cube and is out of sight and out of mind until needed. If my trip is less than 5 days, I just pack enough to get there and back with a laundry bag and don't worry about any laundry supplies. One way or another, I'll have clean clothes. I'm a little obsessed with the travel laundry situation.
3. Electronics. That includes my iPad, my travel adapter, cords, a portable charger and my phone. This normally all fits in my purse. And it covers all of my translation, travel, and communication needs. Check out this article on great apps to get tips on really helpful picks.
4. Travel extras. Things like my travel guides that can't be digitized, a journal, my travel wallet, a reusable bag that folds down. I admit it, I try to digitize as much as I can but sometimes a book is just that much easier! So, I take exactly what I need to make my trip successful.
5. Clothes. I don't believe there is any one piece of advice that works for every traveler. Pack what you think you need for the events that you plan just don't pack more than what can fit in your suitcase. I take flats, sneakers, sandals that go with maxi dresses, and jeans. For most travel, I settle on one or two dressy things and casual mix and match.
6. Care products include a travel curling iron, hair and skin care. I have been taking stuff that's almost done so I can ditch the bulk before I come home. But I am turning my attention to plastic free beauty bars. Hair bands because it will never last, light makeup, a bit of jewelry that won't break my heart if it gets lost.
Share the load…
One of my first conversations with my fellow travelers is "Who has the laundry stuff? I'll bring the curling iron! Do you have the travel guides covered?" While I need these things, it is far easier to collectively share and lessen the load. And isn't that what it's all about? Lessening the load? No one says, "gee! I wish I had lugged more stuff with me during my trip! It would have made it so much better!"